Duckworth-Lewis. The system that has been in the international cricket for a long time. But since the T20 format of cricket has been in effect in the recent years, the usage of Duckworth-Lewis method in cricket has been put into question.
Generally the so-called D/L method applies in international cricket when an ongoing match is interrupted by rain. There may be some instances when it was applied in the case of bad lights or other causes. But since rain is the main concern for continuous play in cricket, I'll try to focus on mainly that aspect of D/L method although bad lights or other causes may also be questionable if D/L is applied in those instances.
Whenever rain interrupts play in cricket, it's usually the teams, coaches, umpires begin to calculate based on D/L method that how much will it change the result of the game. If a team batting first is affected by rain, then D/L method generally helps the other team who will bat second. The reason is simple. For example, if Team-A who were batting first were at 80/2 after 15 overs and play is stopped due to rain, then after the rain stops according to D/L method the game will be in 20 overs. This shortage of innings happened due to rain and Team-A were not aware of it when they started their innings. Now, they know they have to score as much runs as possible, and eventually scores 150/5 at the end of 20 overs. Now, the Team-B has a great advantage at hand. They know they can play 20 overs and they have to score their 151 runs with 10 wickets in hand in that many overs. In contrast, Team-A were playing like they have to keep wickets in hand so that they can play full 50 overs initially. Then after 15 overs they found out they can play for 20 overs with 8 wickets in hand after losing 2 wickets in their 15 overs. Anyone who see such a situation would favor Team-B since they have the upper hand at winning. Isn't this a grave partiality?
Similarly, batting second when rain interrupts also favors Team-B. Because the moment rain strikes, the team that is batting, Team-B, learns that they have to score certain number of runs in certain overs. This gives them wider chance at winning since if, i.e. they didn't lose any wicket or few wickets, they can go hard at the opposing bowlers and achieve their target easily.
Recently, during the T20 World Cup 2010 in which England won their first major trophy in international cricket, lost to a group match to West Indies. Otherwise, they would have been called "unbeaten world champion!" The match that England lost to West Indies, as a general observer of cricket I, like many others, would say that England would have won it. Scoring 191 in 20 overs and then with a strong all-round bowling line-up that English team had, they could've easily thrash West Indies had the game had been played for full overs for West Indies innings. But since rain interrupted play during West Indies batting innings, the Windies team were set a target that was within their easy reach. Instead of scoring 192 in 20 overs with 10 wickets, they were set the target of 60 in 6 overs with 10 wickets. They already scored 30/0 in 2.2 overs when rain interrupted. Since they had 10 wickets in 6 overs now instead of 10 wickets in 20 overs, Windies batsmen could go hard at the English bowlers after play resumed. English captain Paul Collingwood himself also criticized D/L method after the game since he, like many cricket lovers, knew it was England's game had the D/L method were not applied in the match.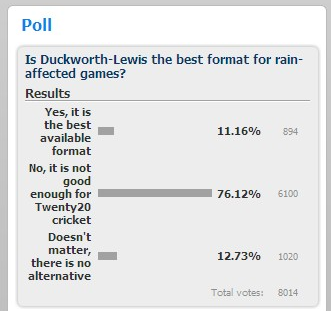 Cricinfo Poll
According to a recent poll conducted by Cricinfo, cricket fans around the world said they do not favor D/L method implementation in rain-affected T20 matches with over 75% majority.
So...ICC, International Cricket Council...I, like many more cricket lovers, would like to request to you that you look into D/L method more.
Rethink if it should be applied in T20 games or even maybe in ODI matches!
Let fair game of cricket be played!